Sammy Kibet Chumba
Sammy is an accomplished half Marathon and Marathon runner. I think his May 2015 performance at the Goodlife Fitness Toronto Marathon speaks volumes about his ability and spirit. He had flown from Narobi a mere 24 hours ahead of the race. Jet lagged and tired he went on to finish 2nd overall with a time of 02:25:47.4 in the full marathon! His personal record times include 2:17 for the marathon and 63 minutes for the half marathon.
During a run together on Blue Mountain in Collingwood I determined some areas I think will improve his times even more. Hill interval training, some interval work and trail running will be the recipe. His incredible aerobic capacity will be complemented by the additional tendon strength and muscular conditioning that running slower on uneven trails can bring. Hill training will improve his lactate threshold and get him training close to his maximum heart rate zone.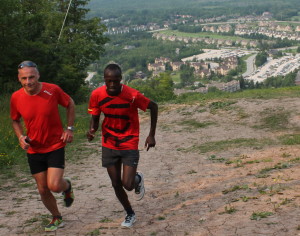 I look forward to working with Sammy in September 2016, followed by having him run the Collingwood Half Marathon to try for a new personal record!
Beyond that there are a number of big races I'd like Sammy to race such as Chicago, New York and Boston and the sky is the limit!
I'm always happy to eat the Kenyan dish called Ugali at Sammy's place. It's corn flour cooked in boiling water and turned into a cake. This plus some vegetable stew is rocket fuel for runners with it's high carb starchy calories!
Elly Kipkemboi Yego (Relly)
Relly Yego from Kenya is a super fast runner who specializes in Half Marathon and 10K racing. His training regimen is very good and he knows what he needs to do. Where I help Relly is really all about offering encouragement and helping him stay positive and encouraged in his training. My goal is to find a way to sponsor his running efforts by getting him to Canada and then on to the USA to compete in some of the famous races where he can get the publicity and really excel like he deserves to. I hope to bring him to Canada for the Toronto and Collingwood Half Marathons.
In addition to the Half Marathon and 10K, Relly is an accomplished track and cross-country runner.
Personal Bests
800 Metres: 1.47
1500 Metres: 3.43
10 km: 29.34
Half Marathon: 1:03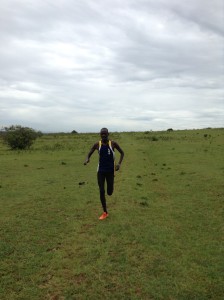 Marianna Volpe Knights
As a high school teacher, mother and active member of her community it's hard for Marianna to make time for exercise, but make time she does! Cross-fit, mountain biking & running are only a few of her activities.
Her latest hobby/business is baking a wide variety of wholesome styles of bread in a wood fired pizza oven at Santini's Ristorante in Collingwood Ontario. If you are local then definitely visit the Collingwood farmer's market and get some! It's amazing.
She successfully completed the North Face Endurance Challenge 21 km trail race in July, 2015. Like everything else she does she jumped in and began training with me once a week and doing other runs through the week to prepare. She is able to regularly run the full 21 km on the exact terrain she will be racing on so I'm quite proud of her progress. I think a full trail marathon or even a trail 50K are within her ability and perhaps next on the list! I can't wait to find out...
Joel Kiptanui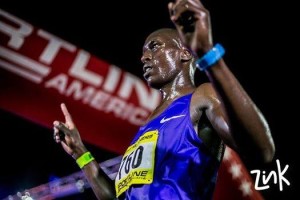 I am a competitive runner from Kenya who has international running experience most recently in Panama. It is difficult to find support for running as a career even from my own family. Coach Nick inspires me to keep trying and keep running and keep my mind in a positive place. God willing I will compete in Canada in the spring of 2015 and look forward to training and running the Toronto Marathon and Collingwood Half Marathon. After that I hope to run other marathons in North America like Hamilton, Vancouver, Boston, New York, Chicago and Washington DC.
Coach Nick - I hope to assist Joel in his efforts to run in Canada and the USA. There are so many runners in Kenya who are talented and fast. All it takes to take genetic potential and a lifetime of running and get to the next level is attitude, tenacity and belief. I truly enjoy our chats online and take pleasure in hearing all about his races. He is a true gentleman and I am proud to continue helping him in his efforts to run some of the big name races in North America.
Joel Kiptanui Race Photos (Click to enlarge)
Joel's Personal Bests
Half Marathon
- 1:05 (Nairobi Parklands Half Marathon P.B.)
- 1:08 (Eaglse Half Marathon)
- 1:07 (Moshi Kilimanjaro half Marathon)
15 Kilometres
- 47:03 ( Nairobi Parklands 15km P.B)
10 Kilometres - 29:30 (Iten P.B.)
Cross Country
12 Km - 38:12 (Athletics Kenya Provincial Qualifiers)
8 Km - 23:18 (Eldoret P.B.)
5 Km - 13:58 (Eldoret P.B.)
Track
3000M (Steeplechase) - 8:40. (District Level P.B.)
1500M - 3:51 P.B.
Sherri Donohue
Edmonton based Sherri Donohue is a Life coach, martial artist (Kung Fu & Brazilian Jiu-Jitsu), Glassblower and sculpture artist who works via torch. She is inspired by nature, fueled by chocolate.
Her goals include working towards several trail ultra races including:
Mad Moose 63K, Prince George BC
Sask 60K, Prince Albert Saskatchewan
Run Wild Half Marathon
Death Race Relay
To me there is no limit to what Sherri can complete. She is as tenacious an individual as I've met. Coaching her is all about sharing knowledge about how to train and never about motivation given her warrior spirit.
Our goal is to explore distances, paces and races she has not yet attempted. I truly look forward to seeing her develop into the ultra runner I know she can be.
Claudia Frauchiger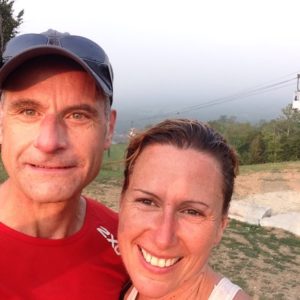 My "Swiss sis from another miss" is an accomplished triathlete who has competed in Canada, Europe and is a 3x finisher of the Hawaii Ironman. Her best performance was a 3rd place female in Hawaii. She is as tough as nails and proved it running 75 km with coach Nick just a week after the Ironman Hawaii competition. 
The way I help Claudia is to give her a focused goal and help her stick to that goal. Once she latches on to a goal there is no stopping her and I have so much respect for her. I will always think of her as a little sister, working to help her achieve her goals. The next goal is her budding trail ultra running career. I'm super stoked to see where she may take that!