Joel Kiptanui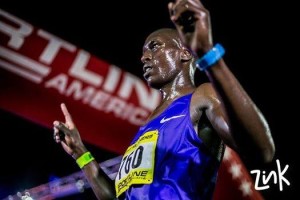 I am a competitive runner from Kenya who has international running experience most recently in Panama. It is difficult to find support for running as a career even from my own family. Coach Nick inspires me to keep trying and keep running and keep my mind in a positive place. God willing I will compete in Canada in the spring of 2015 and look forward to training and running the Toronto Marathon and Collingwood Half Marathon. After that I hope to run other marathons in North America like Hamilton, Vancouver, Boston, New York, Chicago and Washington DC.
Coach Nick - I hope to assist Joel in his efforts to run in Canada and the USA. There are so many runners in Kenya who are talented and fast. All it takes to take genetic potential and a lifetime of running and get to the next level is attitude, tenacity and belief. I truly enjoy our chats online and take pleasure in hearing all about his races. He is a true gentleman and I am proud to continue helping him in his efforts to run some of the big name races in North America.
Joel Kiptanui Race Photos (Click to enlarge)
[foogallery id="61"]
Joel's Personal Bests
Half Marathon
- 1:05 (Nairobi Parklands Half Marathon P.B.)
- 1:08 (Eaglse Half Marathon)
- 1:07 (Moshi Kilimanjaro half Marathon)
15 Kilometres
- 47:03 ( Nairobi Parklands 15km P.B)
10 Kilometres - 29:30 (Iten P.B.)
Cross Country
12 Km - 38:12 (Athletics Kenya Provincial Qualifiers)
8 Km - 23:18 (Eldoret P.B.)
5 Km - 13:58 (Eldoret P.B.)
Track
3000M (Steeplechase) - 8:40. (District Level P.B.)
1500M - 3:51 P.B.
Sherri Donohue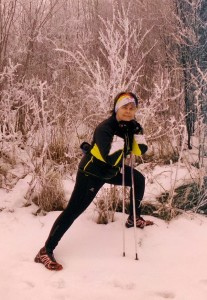 Edmonton based Sherri Donohue is a Life coach, martial artist (Kung Fu & Brazilian Jiu-Jitsu), Glassblower and sculpture artist who works via torch. She is inspired by nature, fueled by chocolate.
Her goals include working towards several trail ultra races including:
Mad Moose 63K, Prince George BC
Sask 60K, Prince Albert Saskatchewan
Run Wild Half Marathon
Death Race Relay
To me there is no limit to what Sherri can complete. She is as tenacious an individual as I've met. Coaching her is all about sharing knowledge about how to train and never about motivation given her warrior spirit.
Our goal is to explore distances, paces and races she has not yet attempted. I truly look forward to seeing her develop into the ultra runner I know she can be.
Claudia Frauchiger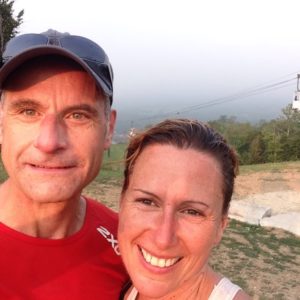 My "Swiss sis from another miss" is an accomplished triathlete who has competed in Canada, Europe and is a 3x finisher of the Hawaii Ironman. Her best performance was a 3rd place female in Hawaii. She is as tough as nails and proved it running 75 km with coach Nick just a week after the Ironman Hawaii competition. 
The way I help Claudia is to give her a focused goal and help her stick to that goal. Once she latches on to a goal there is no stopping her and I have so much respect for her. I will always think of her as a little sister, working to help her achieve her goals. The next goal is her budding trail ultra running career. I'm super stoked to see where she may take that!